After two days in this beautiful city I feel I have lived an explosion of experiences since arriving. These experiences have been relentless. I feel pummeled. And, I would not trade a moment of it. I have a strong need to put these last two days into perspective, before the memory fades.
Our hotel is (according to my map) at the corner of Chadar Bagh and Boustan-e-Mellat, overlooking Se-o-Se Pol Bridge. The literal translation of this bridge is "thirty-three bridges" bridge, because of the thirty-three arches in its structure. Just say "Se-o-Se Pol" to any Iranian, and they seem to know what you mean, and where you have been.
The hotel itself is a standard, mid-city hotel, outfitted with brass and a uniformed bellhop. Our room costs 45 USD per night. Upon arrival on Friday evening, I am tired but exhilarated. Masoud wants tea and a bite to eat, and has already noted a teahouse across he road that should fit the bill. However, our second floor corner room with small balcony affords us some of the best entertainment in town, watching the traffic.
I find it difficult to pull myself away from the real life movie that constantly unfolds before me. Cars making a left hand turn from the far right side of the road, cutting against oncoming traffic on the opposing street to make a u-turn. Throw in a half a dozen pedestrians going in whatever direction suits them, a motorcycle or two traveling against traffic without headlights, perhaps carrying two or three passengers, and a couple of police officers standing in the boulevard observing it all with me.
It is after eleven o'clock before we head to the tearoom. I descend into the basement of a non-descript 1960's three-storey commercial building. On the left are some large polyester bags. To my right is a rectangular room covered in carpet with carpeted and cushioned raised areas about eight feet square around the sides. Several groups of young men are sitting, smoking from traditional pipes and drinking tea. A young man sitting at a table directly in front of the entrance greets us. Masoud explains to me that we must remove our shoes before entering. Now the purpose of the bags becomes apparent, as they are for our shoes. We sit in the nearest raised area, ordering tea and mint tobacco.
Our host, a young man in his twenties, decides to sit down and join us in conversation. He explains that all businesses must close by midnight, and that the authorities will check to ensure that everyone complies. As we still have not yet eaten, we decide to finish our tea and smoke and find a snack in one of the shops above us. Having purchased sausages in a bun, we take a midnight walk across Se-o-Se-Pol. Even at this late hour the streets are still alive with traffic and strolling young people.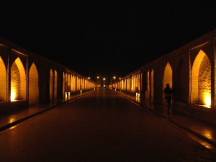 The stone of Esfahan is unique yellow ochre. It is seen throughout the city, including this bridge. A strong wind is blowing as I sit on a park bench viewing the beautiful thirty-three arches. Suddenly, I observe a woman in full flowing black chador walking north on the path to the bridge. She is a haunting lonely figure, silhouetted against the yellow light of the bridge.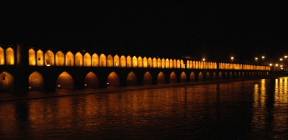 It is so beautiful this night, I feel like I never want to go to bed. The warm breeze, the extraordinary site of this fascinating architecture entrances me. It is well past midnight before we stroll back to our hotel room.
We have two days in Eshfahan before departing for Shiraz early Sunday evening. We intend to make the most of our time. We once again walk across Se-o-Se Pol this time on a beautiful Saturday morning. Traffic, as ever, is chaotic. Just crossing the street requires skill not resident in most westerners. Masoud instructs me to stay close, and follow me. I feel like a child as he offers me his hand to begin the slow yet steady dodge and weave through cars, bicycles, and people. Over time, I develop this skill and will feel bolder as I venture into traffic. For now, however, I am Masoud's shadow, mimicking his every move as we cross the street.
It is now time to find a taxi, so we join the crowds standing near the curb and Masoud begins the process. Cream-colored Paykans (apparently the Iranian national brand of car) continually pull over, and the negotiation begins. I soon find myself jammed in the back seat and off we go. Including the driver there are at least five people, and occasionally up to seven in the vehicle as we head to our destination near the famous bazaar of Eshfahan.
I found the following information on the web:
The bazaar forms a part of the Imam Khomeini (former Naqsh-e Jahan) Square, which is one of the largest and most beautiful squares in the world. This square, measuring 500 x 160 meters, was set up in the second half of the 16th century AD by the Safavid King, Shah Abbas I. On the south side of the square is the Imam Mosque. The Ali Ghapou monumental compound on the west and Sheikh Lotfollah Mosque on the east occupy other sides of the square.

The Isfahan bazaar is essentially a district consisting of numerous streets with stores on both sides connected together, under a high-rise roof. Some of the arcades, including the textiles bazaar and the Qeisariye market, have been ornately designed, thanks to their proximity to the royal palaces, and the famous mosques. In order to provide the necessary lighting for the bazaar's environment, some skylights were built on the roof to let the sunlight in.
I have visited Tianenmen Square, reputedly the largest in the world. It pales, however, to what I am viewing now. This is alive with people, activity and history. From the beautiful mosques, to the Ali Ghapou compound, and the bustle of commercial activity, to say it is steeped in history and culture is certainly understatement.
More photographs are available online in my Esfahan Picasa Album.